Air Interlock Valve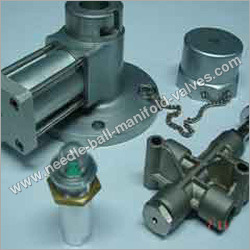 Air Interlock Valve
Product Description
We have developed special valves for Bottom Loading Tankers. Such as AIR INTERLOCK VALVE, DIP INTERLOCK VALVE, PRESSURE INDICATORS. These valves are developed as per the international specification, Made out of excellent quality materials in compliance with industry standards. These valves are offered to clients with different types of end connections to suit their specific application demands. These valves are tested stringently on standard quality parameters.


Features:


No leakage
Easy installation
Can withstand adverse conditions


Special Valves

Air Interlock Valve/Dip Interlock valve/Pressure Indicator
Pioneer Industries has developed Air Interlock Valve which are used in Bottom Loading Tanker.
MOC of valve is as under
Aluminium Forged Body is high strong, hard, and rigid. (Optional: Brass Forged Body against order). Nickel plated body for good surface finishing and better aesthetic look.


M.O.C:

Alluminium, Brass, Stainless Steel


Thread Connection:

AIR INTERLOCK VALVE 1/4" NPT/ BSP

DIP INTERLOCK VALVE 1/8" NPT/BSP

PRESSURE INDICATORS. 1/8" NPT/BSP


Operating Pressure:

Can be operated at a maximum working pressure of 150 PSI ( 10.34 bar)


Testing Pressure:

This valve successfully tested at 225 PSI (15.51 bar) pressure.


Operating Temperature:

can be able to operate without leaking in the temperature range of -40C to 65C


Cycle Test:


This valve is successfully tested for 100,000 Cycles. lighter than other valves. Overall best field serviceability.


Useful In :

API Bottom Loading Adaptor
API Vapor Recovery Adaptor
API Vapor Check Valve
Overfill detection/prevention system
Guard Bar Systems
Also can be used on its own for interlocking a vehicles brakes or controlling other pneumatic components.