Air-O-Fit Brass Push On Fittings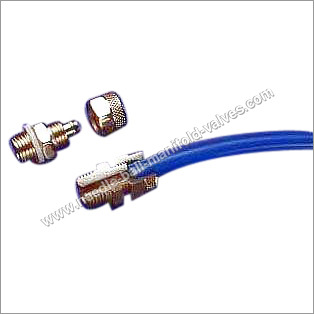 Air-O-Fit Brass Push On Fittings
Product Description
Backed with the support of a highly experienced team, we are successfully manufacturing and exporting an extensive range of Air-O-Fit Brass Push On Fittings. These fittings are used on the PVC tubing. Capable of holding the burst pressure of the tubing without causing any damage to it, these Air-O-Fit Brass Push On Fittings are ideal for various mediums like light gases, compressed air, water and lubricating oil. We offer these fittings to clients at reasonable prices.


Features:


Tight connections
Abrasion resistant
Chemical resistant


For Connecting

Cut the tube for required length by tube cutter and push the tube on the center of the fitting and fix the nut by hand.


For Disconnecting

Loose the nut and haul tube out.


No Tools Needed for Tubing Installation

No torques, haring instruments, drinking sprees or different devices are utilized for tube establishment.


Minimize Installation Time and Labor Cost

AIR-O-FIT Fittings offer at least 36% sparing in establishment time, contrasted with normal pressure sort fittings.


Superb Holding Power

The AIR-O-FIT fittings when amassed finger tight on polyethylene or P.V.C. tubing will hold the burst weight of the tubing itself.


Pipe Swivel Possible

By loosing nut somewhat pipe can be swivel all alone by 3600 according to required bearing.


Material

Elbows and Tees : Brass Forging (according to B.S.218)/Aluminum/Acetal copolymer (Celcon).
Connectors : Unions/Female Studs : Stress diminished metal bar stock ( according to B.S. 249)/Aluminum/Acetal Copolymer (Celcon)


Filter Thread

British standard channel strings (Parallel). Likewise accessible MM strings on 4mm OD tube fitting


Working Medium

Compressed air, light gasses, water, greasing up oil.


Working Pressure

Vacuum to 10 Bar (rely on blasting weight of tube).


Working Temperature

10o C to + 45o C (For Polyethylene tubing)
10o C to + 60o C (For Polyurethane tubing)
10o C to + 80oC (For Nylon tubing)


Requesting Information

To request, you need to specify catalogue number for configuration and desired size.


Example

6mm tube X 1/4" B.S.P. Male connection Code No. A 2006
_______________ Brand of fittings (AIR-O-FIT)
| _____________ Thread Size
| | ____________ Type of fitting
| | | ___________Pipe Size
A2 0 06

Technical Details:
MALE STUD





STUD ELBOW



Code
Tube Size in mm
Thread
B.S.P.
I.D.
O.D.
A1004
A2004
A1006
A2006
A1008
A2008
A3008
A2010
A3010
A4010
A2012
A3012
A4012
A4019
3
3
4
4
6
6
6
8
8
8
10
10
10
13
4
4
6
6
8
8
8
10
10
10
12
12
12
19
1/8
1/4
1/8
1/4
1/8
1/4
3/8
1/4
3/8
1/2
1/4
3/8
1/2
1/2




Code
Tube Size in mm
Thread
B.S.P.
I.D.
O.D.
A1104
A1104S
A2104
A2104S
A1106
A1106S
A2106
A2106S
A1108
A1108S
A2108
A2108S
A3108
A2110
A3110
A4110
A2112
A3112
A4112
3
3
3
3
4
4
4
4
6
6
6
6
6
8
8
8
10
10
10
4
4
4
4
6
6
6
6
8
8
8
8
8
10
10
10
12
12
12
1/8
1/8
1/4
1/4
1/8
1/8
1/4
1/4
1/8
1/8
1/4
1/4
3/8
1/4
3/8
1/2
1/4
3/8
1/2

STUD TEES




DISTRIBUTOR HOLLOW BOLT



Branch Code
Run Code
Size in mm
Thread
B.S.P
I.D.
O.D.
A1304
A1304S
A1306
A1306S
A1308
A1308S
A2306
A2306S
A2308
A2308S
A2310
A3310
A4310
A2312
A3312
A4312
A1204
A1204S
A1206
A1206S
A1208
A1208S
A2206
A2206S
A2208
A2208S
A2210
A3210
A4210
A2212
A3212
A4212
3

4

6

4

6

8
8
8
10
10
10
4

6

8

6

8

10
10
10
12
12
12

1/8

1/8

1/8

1/4

1/4

1/4
3/8
1/2
1/4
3/8
1/2




Code
Supply Line
Tube Outlet
No. of Benjo
MM
L/T
DHB1/1-04
DHB1/2-04
DHB1/3-04
DHB1/1-06
DHB1/2-06
DHB1/3-06
DHB2/1-06
DHB2/2-06
DHB2/3-06
DHB2/4-06
DHB1/1-08
DHB1/2-08
DHB1/3-08
DHB2/1-08
DHB2/2-08
DHB2/3-08
DHB2/4-08
1/8
1/8
1/8
1/8
1/8
1/8
1/4
1/4
1/4
1/4
1/8
1/8
1/8
1/4
1/4
1/4
1/4
4 X 3
4 X 3
4 X 3
6 X 4
6 X 4
6 X 4
6 X 4
6 X 4
6 X 4
6 X 4
8 X 6
8 X 6
8 X 6
8 X 6
8 X 6
8 X 6
8 X 6
1
2
3
1
2
3
1
2
3
4
1
2
3
1
2
3
4

FEMALE TEE




DISTRIBUTOR RING PIECE



Branch Code
Run Code
Size in mm
Thread
B.S.P
I.D.
O.D.
A1504 A1506 A2506 A1508 A2508 A2510 A3510 A3512 A4512
A1404
A1406
A2406
A1408
A2408
A2410
A3410
A3412
A4412
3
4
4
6
6
8
8
10
10
4
6
6
8
8
10
10
12
12
1/8
1/8
1/4
1/8
1/4
1/4
3/8
3/8
1/2




Code
Swivel
Elbow
MM
Code
Swivel
Tee
MM
DRP04L
DRP06L
DRP06L
DRP08L
DRP08L
4 X 3
6 X 4
6 X 4
8 X 6
8 X 6
DRP 04T
DRP 06T
DRP 06T
DRP 08T
DRP 08T
4 X 3
6 X 4
6 X 4
8 X 6
8 X 6

FEMALE ELBOW




FEMALE STUD



Branch Code
Tube Size in mm
Thread
B.S.P
I.D.
O.D.
A1604
A2604
A1606
A2606
A1608
A2608
A3608
A2610
A3610
A3612
A4612

3
3
4
4
6
6
6
8
8
10
10
4
4
6
6
8
8
8
10
10
12
12
1/8
1/4
1/8
1/4
1/8
1/4
3/8
1/4
3/8
3/8
1/2




Branch Code
Tube Size in mm
Thread
B.S.P
I.D.
O.D.
A1804
A2804
A1806
A2806
A2808
A3810
A4812
3
3
4
4
6
8
10

4
4
6
6
8
10
12
1/8
1/4
1/8
1/4
1/4
3/8
1/2

BENJO



REDUCING NIPPLE
With Sealing ring



Code
Benjo'L
Code
Benjo'T
Tube Size in mm
Thread
B.S.P.
I.D.
O.D.
A1904L
A1906L
A2906L
A1908L
A2908L
*A2910L
*A3910L
*A3912L
*A4912L
A1904T
A1906T
A2906T
A1908T
A2908T
A2910T
A3910T
A3912T A4912T
3
4
4
6
6
8
8
10
10
4
6
6
8
8
10
10
12
12
1/8
1/8
1/4
1/8
1/4
1/4
3/8
3/8
1/2

*Manufactured against order only.




Code
TH Size
A
TH Size
B
RN 1-2
RN 2-3
RN 3-4
1/8"BSP
1/4"BSP
3/8"BSP
1/4"BSP
3/8"BSP
1/2"BSP

Material : BRASS

PIPE COUPLING




DOUBLE NIPPLE
With 2 sealing rings



Code
TH Size
Material
PC1
PC2
PC3
PC4
1/8" BSP
1/4" BSP
3/8" BSP
1/2" BSP
BRASS
BRASS
BRASS
BRASS




Code
TH Size
TH Size
Material
A
B
DN 1-1
DN 1-2
DN 2-2
DN 2-3
DN 3-3
DN 3-4
DN 4-4
1/8" BSP
1/8" BSP
1/4" BSP
1/4" BSP
3/8" BSP
3/8" BSP
1/2" BSP
1/8" BSP
1/4" BSP
1/4" BSP
3/8" BSP
3/8" BSP
1/2" BSP
1/2" BSP
BRASS
BRASS
BRASS
BRASS
BRASS
BRASS
BRASS

TUBE FITTINGS
COUPLER




ELBOW



Code
Tube Size in mm
I.D.
O.D.
A0004
A0006
A0008
A0010
A0012
3
4
6
8
10
4
6
8
10
12




Code
Tube Size in mm
I.D.
O.D.
AO104
AO106
A0108
A0110
AO112
AO119
3
4
6
8
10
13
4
6
8
10
12
19

TEE




CROSS



Code
Tube Size in mm
I.D.
O.D.
AO204
A0206
A0208
A0210
A0212
A0219
3
4
6
8
10
13
4
6
8
10
12
19




Code
Tube Size in mm
I.D.
O.D.
A0304
A0306
A0308
A0310
A0312
*A0319
3
4
6
8
10
13
4
6
8
10
12
19

*Mfg. against order only

BLANKING CAP FOR FITTING




BULK HEAD



Code
Tube Size in mm
BC 04
BC 06
BC 08
BC 10
BC 12
FOR 04 MM TUBING
FOR 06 MM TUBING
FOR 08 MM TUBING
FOR 10 MM TUBING
FOR 12 MM TUBING




Code
Tube Size in mm
I.D.
O.D.
A0704
A0706
A0708
A0710
A0712
3
4
6
8
10
4
6
8
10
12