Vibra Lok Fittings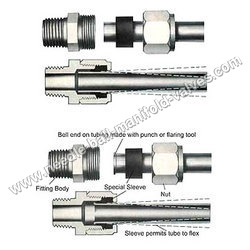 Vibra Lok Fittings
Product Description
In both domestic as well international markets, our company is counted among the topmost manufacturers and exporters of a wide range of Vibra Lock Fittings. Available for clients in different standard sizes to meet their individual requirements in industries, these fittings are specifically designed for use in indestructible joints to withstand extreme shock and major tube movements. Prior to final dispatch in market, these Vibra Lock Fittings are stringently tested on standard quality parameters by experts.


Features:


Pressure tight seal
Permit the tube to flex back and forth in the fitting
Resist deterioration


Vibra Lok and 45 Degree Fittings


Our association offers a broad scope of Vibra-Lok and 45 and Degree Fittings, which is made in accordance with the pertinent business principles. These fittings help the indestructible joints to withstand amazing stun and significant tube developments. The tubing is padded against harm as theories are given versatile sleeve. Our extent is created from extraordinary organization Buna-N flexible fixing material, which shapes the pad in the middle of tubing and fitting. These fittings guarantee weight tight seal, allows the tube to flex forward and backward in the fitting and the seal plan make up for tube misalignment and tube surface imperfections amid get together. Our scope of unique Vibra-Lok sleeves opposes decay and holds adaptability over a wide temperature range.


We offer Different types of VIBRA - LOK Such as:


ASSEMBLED WITHOUT BELLED TUBE, ASSEMBLED WITH BELLED TUBE


Fittings available :


Straight Connectors, Stud Elbow, Branch Tee, Run Tee, Female Stud, Union-Straight Elbow Tee - Available in above tube size & thread size combination.
Tube Size- 3/16" 1/4" 1/4" 5/16" 3/8" 3/8" 3/8" 1/2" 1/2" 5/8"
Thread Size- 1/8" 1/8" 1/4" 1/4" 1/8" 1/4" 3/8" 3/8" 1/2" 1/2"
Maximum Working Pressure - 1000 psi
Material - Elbows and Tees : Brass Forgings - S.A.E. Ca377
Connectors, Unions, Nuts - Stress relieved bar stock - S.A.E. 360


Sleeves:


Unique versatile fixing material Buna-N utilized for temperatures from below zero to 275oF/135oC. The sleeve has compelling imperviousness to weakening by oil and gas. High temperature sleeves made of Viton for use from below zero to 450oF/232oC. Sleeves are perfect for gas, oil, diesel fuel, oils, vacuum, air and water administration.


Compatible Tubing:


All types of seamed and seamless metal tubing Copper, Aluminum, Thin Wall Steel (Bundy or G.M.), Stainless Steel and Glass.